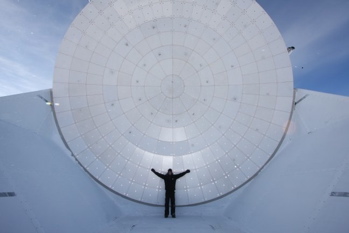 South Pole, Fall 2008: 2008 winter-over Dana Hrubes in front of the primary mirror.

Photo Credit: Keith Vanderlinde.

October, 2018: The SPT-3G camera has nearly completed it's 2018 observing season! Winter-overs Joshua Montgomery and Adam Jones have nearly finished a successful 2018 austral-winter observing season at the South Pole! They will continue using SPT-3G to observe the 1500 sq. deg. survey patch for another month, before being relieved by a small austral-summer crew who will perform maintenance and improvements on the telescope and camera.