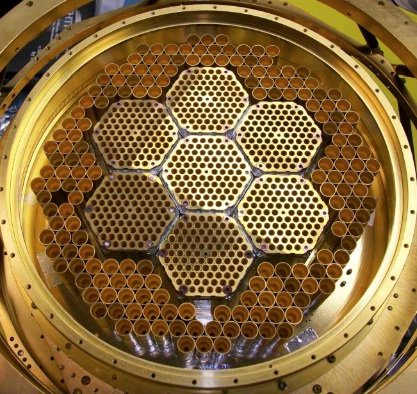 An image of the SPTpol focal plane. The focal plane consists of 768 pixels, each containing two super-conducting transition-edge sensor (TES) bolometers coupled to orthogonal polarizations, for a total of 1536 bolometers. In this image, you are looking down into the gold-plated feedhorns that couple microwave light to the SPTpol detectors.

November, 2017: SPT-3G camera upgrade begins.

Scientists working on the South Pole Telescope (SPT) project have made the long-journey to Antarctica to begin work on the SPT-3G camera. The goal for this summer season is to bring the SPT-3G camera up to full sensitivity following its initial installation in Jan 2017. The upgraded camera will have more than 10x more detectors than its predecessor, SPTpol, and will be used to make an ultra-sensitive map of CMB polarization across 2500 sq. degrees.